ViZiON Hair and Beauty : MINX
MINX NAILS/TOES ……………………………45mins
Lasts up to six weeks + on toes & up to weeks on nails.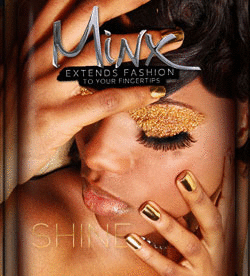 What's a Minx?
Minx is a sexy, confident, naughty but fun individual who lives every day like it is a big, ripe juicy apple ready to be bitten. Minx channelled this cool factor, a new and glamorous way that lets women (and men!) extend fashion to their very fingertips.
ViZiON Hair & Beauty
ViZiON Hair & Beauty Uses MINX Products