ViZiON Hair and Beauty : LASHES

LASHES
Eyelash Perming ………………………………………………………..……….
Temporary Lashes ………………………………………………………………
Strip Lashes ………………………………………………………………………..
NOUVEAU SEMI-PERMANENT LASH EXTENSIONS
Lasting up to 3 months!!
Semi-permanent lashes as worn by Victoria Beckham, Naomi Campbell & Jennifer Lopez!!
Luxury Lashes ……………………………………………………………………..
60/90mins maintenance (2-3 weeks) …………………………….……
30/60mins maintenance (2-3 weeks) …………………….…………...
Eyelash perming is an eyelash treatment which will make your eyelashes look longer and fuller without the need for you having to go through the eyelash extension treatment or the cost. Some people don't like getting false eyelashes for many different reasons but the biggest is having your eyes stuck down with the tap the eyelash technicians use so they settle for getting their lashes permed instead.
Temporary lashes (flares) usually last 1 WEEK.
Strip lashes come in pairs and are applied to the lower edge of the eyelid. They are available in a variety of lengths, styles, and thicknesses. If necessary, trim the strip from the outside to fit the eye. You also might want to trim the length of the lashes. Strip lashes are applied daily, must be removed before going to sleep.

Semi-Permanent eyelash extensions can last several weeks.
NOUVEAU SEMI-PERMANENT LASH EXTENSIONS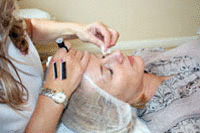 Nouveau Lashes are a ground breaking new way to extend and thicken lashes to give long, full eyelashes that look and feel very natural. •For professional application only - the entire procedure is very comfortable and relaxing.
•Light and very comfortable on the eyes and will not prematurely cause natural lashes to fall off, as can be the case with traditional false eyelashes.
•Made of a synthetic material - very soft and naturally curved. Sizes range from 6mm to 15mm. Lashes are currently available in Jet Black, Expresso Brown, Burgundy Red, Velvet Purple, Midnight Blue and Mountain Green.
•Nouveau Lashes normally last for approximately two months, depending on the life-cycle of your natural lashes. Made to be identical to natural lashes, the lash base is flat and the lash tip is fine and polished, just like real lashes. It takes approximately 90 minutes to two hours to apply a full set of lashes. Retouching is recommended every two to three weeks to help maintain the fullness of the lashes.
•Nouveau Lashes naturally darken your lashes, so mascara is not necessary. If desired, water-based mascara can be applied on the tip of the lashes for further enhancement.
•Can be removed at any time by a salon technician, using Nouveau Lashes remover. The procedure is very easy and comfortable.
ViZiON Hair & Beauty Uses NOUVEAU LASHES