ViZiON Hair and Beauty Mens Treatments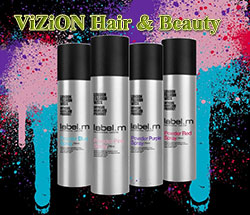 We Offer the following treatments for Men:
Wet Cut
Allover Shave
Colour / Cut
Hair Tattoo

ViZiON Hair & Beauty use the highest quality products and professional hair colours, principally from the LABEL.M, MATRIX & Biolage ranges; we also supply GHD, TIGI products.
We aim to provide an exceptional quality of hairdressing at realistic prices, by friendly and extremely well trained hair stylists, using the best quality products on your hair and set in a modern, relaxing, comfortable environment.
See A Range of Mens Hair Styles Click Here: Mens Gallery
HAIR TATTOOS
Is a trendy and non-conservative look is attracting athletes, skateboarders, artists and gamers as fans
How Long Does it Last?
Hair tattoos last for only a few weeks, depending on how quickly hair grows. Frequent maintenance is required to keep the tattoo looking sharp. Cost is dependent on how complex the pattern is, and on the qualifications of the stylist.