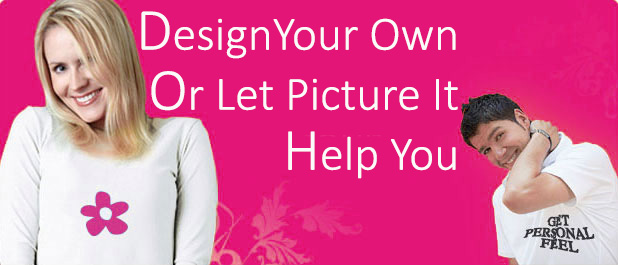 T-SHIRTS
HAVE FUN WITH YOUR T-SHIRTS DESIGN YOUR OWN

Let Picture It help you If you're struggling with artwork. Our artwork staff are regarded highly and the greatest of care is taken in reproducing your design or logo. With our design software we can help you can add your own images or text, and quickly edit sizing and font. Or add a design from our huge library!
Create a design in a matter of minutes, or spend hours finalising your masterpiece then bring it to Picture it and let us complete the finished T-Shirt.
We can add your vector file, or draw your design directly onto the garment with the draw tool. Add text with the click of a button, and change it by selecting from our huge variety of fonts. The text colour is easily edited too. Create curved text if you like, and change the sizing, spacing and angles.
We provide custom and promotional printed t-shirts. Our extensive range of t-shirts includes the following and more - short-sleeve, long-sleeve and sleeveless t-shirts - heavyweight, hooded and thermal t-shirts - men's, ladies and children's t-shirts - crew-neck, v-neck and scoop-neck t-shirts.

Club T-Shirts
Team T-Shirts
Association T-Shirts
Charity Fundraising T-Shirts
Promotional Event T-Shirts
Personalized T-Shirts
Business T Shirt Printing
Promotional T Shirt Printing Services
Fashion T Shirt Printing
Party T Shirt Printing
University and Society Clothing
Hen Night T-Shirts
Stag Night T-Shirts
Sports T Shirt Printing
Nightclub T Shirt Printing
Religious Printing
Ski Hoodies
Holiday T-shirts
School wear
Festival Printing
Charity T Shirts
Custom Printed Dancewear