Welcome to Picture It Cumbria.

For Quality CUSTOM T-SHIRTS, PERSONALIZED ENGRAVED PHOTO GIFTS, MUGS, MOUSE MATS, PLACE MATS, JIGSAWS, PHOTOS and PROMOTIONAL MERCHANDISE. All printed using state of the art digital printers.
Durable, vibrant, high definition printing. No minimum order. Two day dispatch. Simple, secure & convenient.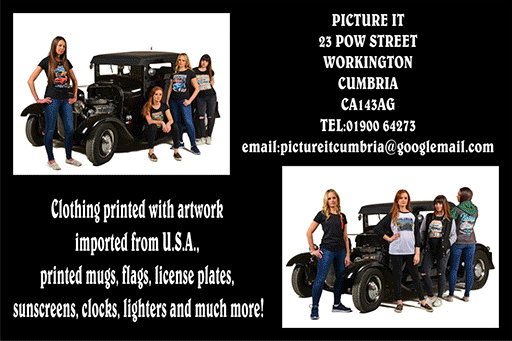 One Stop Shop For Photos, Custom T-Shirt and Photo Gifts.
Picture It! based in Workington, Cumbria offers friendly professional photographic services & advice on developing pictures and use of digital cameras. We can also scan your photo and offer a touch up service for old or damaged photographs.We can scan your films onto a CD at the same time as film processing to give you a digital copy of your photographs.
Let us help you if you're struggling with your design. Our artwork staff are highly regarded and the greatest of care is taken in reproducing your design or logo. Picture It! can process your photos in 1/2hr.